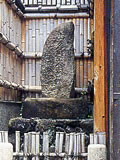 The place was a territory of where a western military troop was located
As the Onin War (1467-1477), which split our country into two parts, ended in the Muromachi era, textile craftsmen who were spread out across the country returned to Kyoto. The production of textile was resumed around this area, where it used to be a territory occupied by a western military troop led by Sozen Yamana during the war. The town of textile prospered before the war, an area known today as the northern west part of Kyoto and had started being called "Nishijin" around that time. The name of "Nishi(west)-jin(territory)" was derived from the territory of the western military troop. The site of residence that was owned by Sozen still remains at Itsutsuji-iru Horikawa-dori in Kamigyo-ward.
Since the textile manufacturing of the Imperial court
The manufacturing of textile in Kyoto began around the 5th century, which was before the Heian-kyo was built by Emperor Kanmu. In addition, the public hall, called "Oribenotsukasa", is where the managing of the textile of the Imperial court was established with Heian Sengu. Therefore, the craftsmen living in the area of the current Kamigyo-ward, Kuromon, and Chojya-machi were encouraged for its development in sophisticated textile production of twill weave, cotton, and many others. As the first half of Heian-era ended, the government-operated textile factories had started declining. However, the craftsmen of independent textile manufacturers, who were free from the control of the Imperial court, began moving to Otoneri-cho, which was located on the east side of Oribenotsukasa. Famous textiles, such as "Twill weave of Otoneri", and "Silk of Omiya", were manufactured. Moreover, the original Karaaya (twill weave introduced from China) was developed from the study of twill weave, in which the manufacturing of this type of weaving was introduced during China's Song dynasty. These textiles had a profound impact as a decoration used in shrines and temples.